National Palace Museum Southern Branch and Chiayi(one-day tour)
This tour takes you into the cultural mecca of Chiayi:a painting capital of Taiwan and center of fine cochin craftsmanship. Tour the collection at the National Palace Museum Southern Branch and breathe the fragrance of an old cypress house on this nostalgic trip for the mind and senses.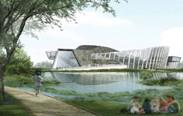 From:Taichung City
Hours of tour:9-10Hours
Minimum Persons:2人
Day 1
Departure Point→Southern Branch Museum of the National Palace Museum (120m)→Xingang Bantou Village (90m)→Pineapple Hill (30m) →Hinoki Village(60m)→Taichung
Location
Price
Weekdays, holidays, consecutive holidays, busy day price
Related Info
NT$1,800/person; Children under three years old not requiring a separate seat NT$200 (includes: Taiwan Tour Bus fare, insurance, admission tickets, lunch, mineral water, and guide service)* This tour will begin service on December 28, 2015.
Notices
"Taiwan Tour Bus" journey is reserved upon requested. Tourists can inquire the detailed information with their travel agents.
The journey is either on a half-day or one-day basis. All the itineraries can be arranged on a two-days or three-days basis and also can be received with better hotels rate through travel agent service.
Price for all "Taiwan Tour Bus" journeys includes transportation, tour guide service and insurance (NT$5 million liability insurance, NT$200,000 medical insurance); Meal and admission ticket are excluded in some tours and all those can be arranged upon requested.
Departure point is limited in some specific hotels as each itinerary is indicated.
Additional Inquires
華府旅行社

+886 4 3502 7888

+886 4 3506 9838

中華民國台中市西區公益路367號10樓之2